Upcoming Opportunities for Strengths-Based Practice
We create innovative strengths-focused events, from foundational training in Mindfulness-Based Strengths Practice to workshops and masterclasses. If you have any questions about any of these offerings, please email us at hello@flourishingcircle.org.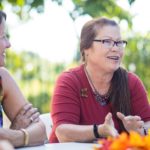 Practice in community to connect with others and nourish your practice.
More info >
Free monthly sessions to explore and enhance your work-related strengths.
More info >